Arusha and all points west!
Best viewed at 1440 X 900 pixels. Any resolution lower than this will result in weird formats and text/image placment.
It rained all night. Rained so hard I heard the rain, even without my hearing aides! But what the heck, I'm not scared.
As Lowell Thomas would say, "ah yes, ladies and gentlemen, there's anticipation in the air as our intrepid travelers prepare to journey into the unknown.
Perhaps to savor the local flora and fauna, or perhaps, the local fauna will savor them!
Before heading "into the bush" we make a short stop at the "Tanzanite Shop." Tanzanite is the blue/purple variety of the mineral zoisite which was discovered in the Meralani (Merelani) Hills of Northern Tanzania in 1967, near the city of Arusha. It is used as a gemstone. Tanzanite is noted for its remarkably strong trichroism, appearing alternately sapphire blue, violet, and burgundy depending on crystal orientation.
Tanzanite in its rough state is usually a reddish brown color. It requires artificial heat treatment to 600 °C in a gemological oven to bring out
the blue violet of the stone. Tanzanite is a rare gem. It is found mostly in the foothills of Mount Kilimanjaro.
A beautiful stone, but at a price. Whether the companies that mine the gem really fess up to their PR remains to be seen.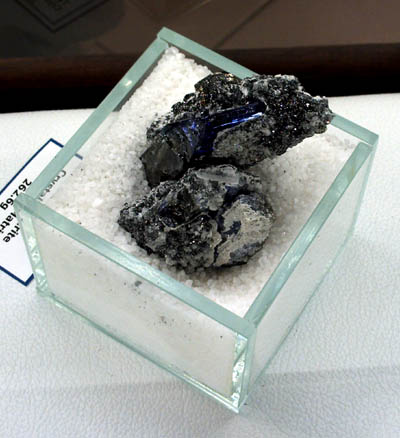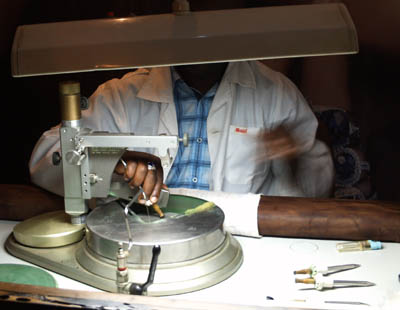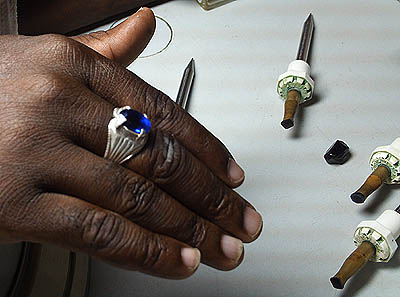 It is a rare gemstone and is only found in at the base of Mount Kilimanjaro.
After our stop at the Tanzanite shop we are FINALLY on our way to the country. At least for me it's a welcomed status.
We head west towards Ngorongoro Crater and the Serengeti. Of course, there are stops in between. Geez, wouldn't I have known!
On the Road Again!
There are all kinds of stops and interesting places to visit along the highway from Arusha to Ngorongoro and the Serengeti National Park.
Fortunately we found one, a local Maasai Cattle Market! Once I started sketching I seem to attract everyone within breathing distance.
I guess if you're not wearing red or blue you must be a stranger!

Photos: (c) Patrick Sbarra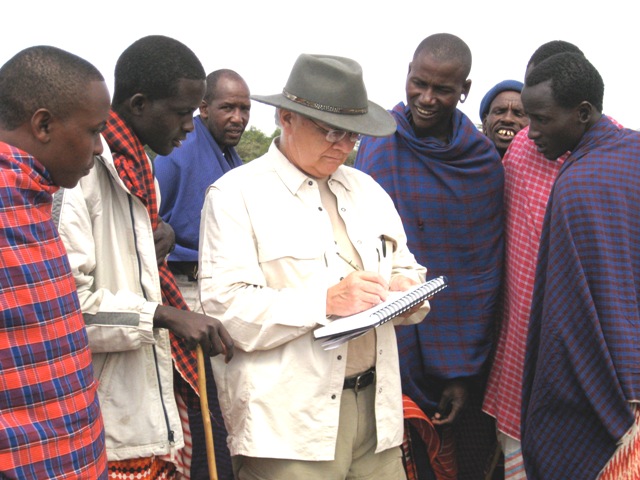 Photo: (c) Ellie Wong
One of my sketches.
Soon it was time to leave the market and head for our next lodge, Lake Burunge Tent Camp. On the way the countryside began to change. Instead of the lush green mountains we had seen in Arusha we entered a dry high desert like countryside. Here and there we would see the Maasai tending their herds of cattle and goats along the roads. The asphalt gave way to a
gravel road and as you say in Sawahili, bara bara ina rasta (this road is bumpy)!
Those growing cumulus nimbus clouds told us that rain would soon be upon us. But, we were lucky that the
rain didn't start a few days later. Next stop, Lake Burunge.


On


Want to go to Africa? Begin here.

© 2009 Anthony Galván III

All images protected under copyright law. Any use, without written permission is prohibited.

Images credited by other photographers are also covered by this notice and written consent from them is also required.