June 21, 2001, Eclipse Day
Lake Karibe, Zimbabwe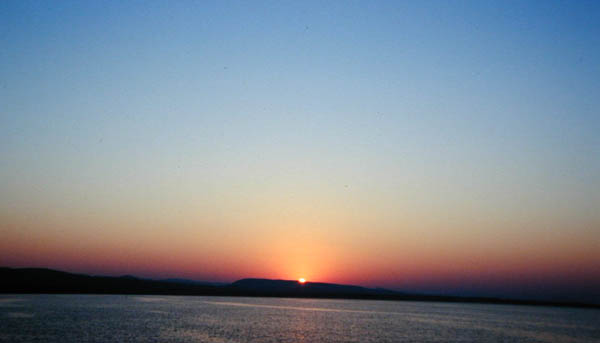 Sunrise over Lake Karibe. It's going to be a beautiful day for an eclipse.
Early risers are practising their solar viewing techniques and waiting for breakfast.
This was our floating hotel for the night. So, despite a long hard day of travel the day before eveyrone was rested and ready for one more bus ride to our viewing location. Once again we were up at dawn and on the road by 08:00 hours. Our viewing site would be a private farm up in the moutains away from the lake. Abut two hours away from the lake.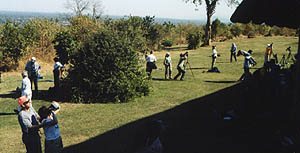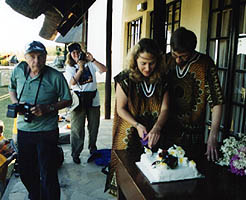 Eclipes chasers begin to set up. On the other side of the field Andrea and Steve tie the knot. Talk about a Diamond Ring!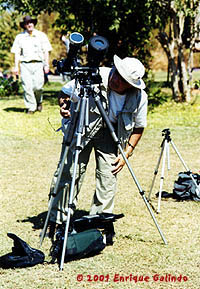 I make some last minute adjustments and wait. And I hope nothing goes wrong.
Priscilla Hopkins let's us know what's happening upstairs.
Contact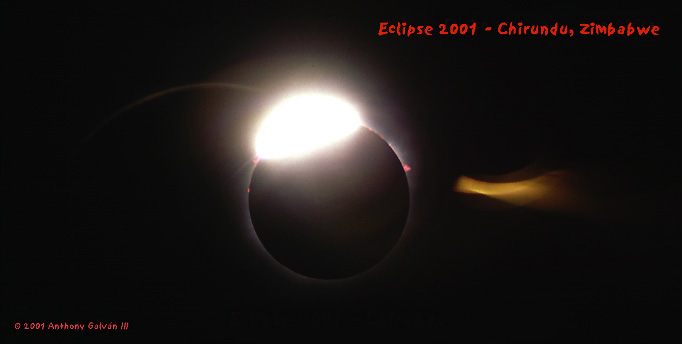 Two happy Eclipse Chasers. When's the next one?
More totality shots can be seen here.
And so end our adventures in South Africa. We had a great time, met many nice folks and hope to see them again at the next total solar eclipse.
Why? Because eclipses just happen.
So it was the next day we started our long journey back home via Karibe, Johannesberg, Cape Town, Ft. Lauderdale, Atlanta and Los Angeles. By the time we arrived in Santa Barbara it had been over 25 hours of flying and waiting. But it was worth it. Out next African adventure will be Kenya and Tanzania.

Many thanks to Bob Clark, John Hopkins, and Enrique Galindo for taking and providing photos of the photographer.

Don't forget to come back in a few weeks to view my African sketchpad.

Back to home.

Okay, so you think Africa might be a great destination for you and your significant other or others?

Then why not do something about. Plan a trip. Begin here with Expedia!

So, when is the next big solar eclipse?
I would suggest you make reservations now for August 28, 2007!

Book a Flight to Africa!

© 2001 Anthony Galván III

Any use without written permission is prohibited.