Delta II Rocket Launch, Vandenberg AFB, CA
May 17, 1998, 14:16 PDT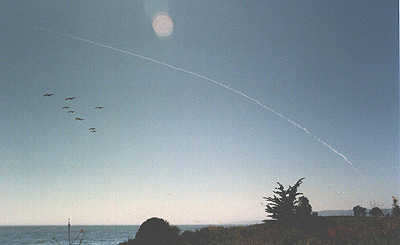 Exposure: 1/500, f/11.
Film: Fujicolor 400 color print
Lens: Tamaron 28mm-200mm .
Location: Ellwood Shores, CA, 42 miles ESE of launch point.
Daylight launch of the last Iridium packages completing the satellite placement around the globe.
This spot was shelled on February 26, 1943 by a Japanese submarine off the coast. The only place in the continental U.S. to be attack by a foreign power since the War of 1812.
The opening scenes in the film, 1941 are based on this attack.
For more information contact Tony Galván.
All images © 1998, Anthony Galván III. Any use without written permission is strictly prohibited.