Mowana Lodge, Kasane, Botswana
Yeah Boy!

It's Saturday morning and after a good night's sleep we're "on the road again!" I just can't wait to see what's out there.

Early risers get to have all the fun. The sounds, the noise, the cacophony of this and that!

Geez, Louise "let's go!"

A walk on the veranda is like one we've never known. A chirp here and a screech there. For those of you warm and snug in your beds you're missing the best part of Africa! The sunrise! With all it's pluses and minuses you can't go wrong!

Dawn on the Chobe
We decide to take a "stroll" along the river's edge before breakfast. Taking a stroll along a river in Africa can be a problem because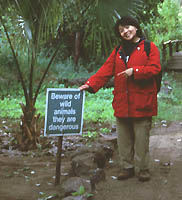 all critters have the right-of-way .
After breakfast and checking out some of the local birdies in the trees we get ready for the river cruise. Joan elects to take the large fancy and stable pontoon boat. I elect to ride on a small 14 footer.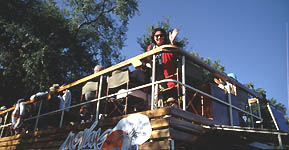 Say aloha Joan.
Needless to say the morning's river cruise offers more visual delights than the San Diego Wildlife Park.
Here is just a small sample of what the we saw on Saturday morning.
The River Cruise, June 16, 2001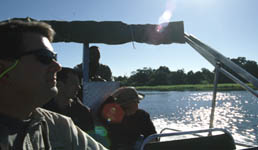 Happy River Rats returning back to the lodge. The pilot is Prince who knew where to take us.
Back to the Diary Index.
Book a Flight to Africa!

© 2006 Anthony Galván III
Any use without written permission is prohibited.