[INDEX]
[>>]
Barn Owl Tyto alba This very common owl is found throughout most the United States. Striclty nocturnal, it feeds on mice and rats. This Barn Owl can be seen flying at the Sonora Desert Museum near Tucson, Arizona.
Raptor Art (Owls and Hawks)- These are a series of six raptor portraits:
Great-Horned Owl, Western Screech Owl, Peregrine Falcon, American Kestrel,
Red-Tailed Hawk and Red-Shouldered Hawk which are for sale.
Bird and Photography Resources Online
Wildlife First-Aid and Other Tips
Check out these gifts for that Owl lover in the family?
Want something different to show you'e a raptor lover. Check out these great designs for T-shirts, polo shirts, bags, mousepads and other items. Click on the link for information on how to order.
Visit my store at
Cafe Press
. If you don't find what you're looking for contact me for commission fees.
Still need more information on birds? Search from here.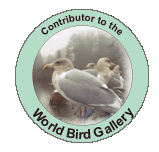 All images © Anthony Galván III
Any use requires written permission
[Owls INDEX]
Back to the Raptor's home page.