[INDEX] [<<] [>>]

Barn Owl Tyto alba Barn Owl owlets. Barn owls will lay five to seven eggs and each begins incubation as soon as it is laid. The owlets hatch at different intervals so it's not uncommon to see different size chicks in a nest. These owlets were rescued and later released into the wild after their nest was destroyed. Ventura County, California.

Raptor Art (Owls and Hawks)- These are a series of six raptor portraits:
Great-Horned Owl, Western Screech Owl, Peregrine Falcon, American Kestrel,
Red-Tailed Hawk and Red-Shouldered Hawk which are for sale.

Bird and Photography Resources Online

Wildlife First-Aid and Other Tips

Check out these gifts for that Owl lover in the family?




Want something different to show you'e a raptor lover. Check out these great designs for T-shirts, polo shirts, bags, mousepads and other items. Click on the link for information on how to order.

Visit my store at

Cafe Press

. If you don't find what you're looking for contact me for commission fees.

Still need more information on birds? Search from here.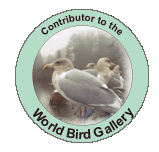 All images © Anthony Galván III
Any use requires written permission
[Owls INDEX]
Back to the Raptor's home page.