[INDEX] [<<] [>>]

Great-Horned Owl owlet Bubo Virginianis. Great-Horned Owl owlets are quite "cute" when they are born. This one, unfortunately, fell from its nest and needed to be taken to a rescue facility. Because owl imprint rather quickly, surrogate moms and dads are often used to bring them up until they can be released back into the wild. Rehabbing an orphan like this will include placing it with other owls and adults where it will learn to hunt. Notice those talons, even at this young age they can cause a painful injury. Care should be taken when handling even the youngest of owls. Santa Barbara County, Calfornia.

Raptor Art (Owls and Hawks)- These are a series of six raptor portraits:
Great-Horned Owl, Western Screech Owl, Peregrine Falcon, American Kestrel,
Red-Tailed Hawk and Red-Shouldered Hawk which are for sale.

Bird and Photography Resources Online

Wildlife First-Aid and Other Tips

Check out these gifts for that Owl lover in the family?




Want something different to show you'e a raptor lover. Check out these great designs for T-shirts, polo shirts, bags, mousepads and other items. Click on the link for information on how to order.

Visit my store at

Cafe Press

. If you don't find what you're looking for contact me for commission fees.

Still need more information on birds? Search from here.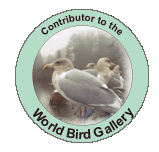 All images © Anthony Galván III
Any use requires written permission
[Owls INDEX]
Back to the Raptor's home page.